This post is a tribute to the game of Football, fascination of which changed myself in less than a year: The year was 2006. I dropped that year after class XII for preparation of IIT JEE exams. The early months (June-July) of my preparation coincided with the FIFA World Cup 2006 and since I had to put hard efforts in just one subject, I had some free time to watch stuff and also focus on my fitness. I looked like this at that point of time weighing over 80 Kg. Like any obese kid who is teased his whole life, I had enough motivation but it was never going to be easy.
Tough Match against Asthma: The biggest obstacle for me was that I suffered from asthma all my childhood. I always loved football but all I could do in my respiratory capacity was goalkeeping (read: lots of diving, zero running) while we played at school. So in my early days of working out, I did a lot of just running slowly at one place while trying to control my breath and increase my capacity.
Empty Midfield: Since JEE prep days are meant to spend in isolation, drowned in books, I seldom played outside. All I had access to were a huge empty hall upstairs, football and myself. That was my ground zero. It could have been boring and I could have just quit but I was different. I had one other problem. I had zero skills with my feet, I didn't even used to take the goal kick while playing at goalkeeper position because I sucked at it. Now that no one was judging or watching me play, I could kick like a sissy and still feel like a champ. Also, I could take rests as long as I wanted which was necessary considering my respiratory limitations. So, my sessions lasted more than 90 minutes usually. Loneliness is not necessarily bad, after all.
Of Magicians & Tricks: Some of you may be wondering how can someone play alone for so long and still not get bored. And the answer is: I was never fascinated by the strikers scoring goals and taking victory laps. For me, the idols were players like Ronaldinho who made football look more like an art form. So, I started practicing dribbling, stepovers, ball juggling and banana kicks. I sucked at first but improved gradually. the progress was visible and at that time, I was doing it more for football than fitness.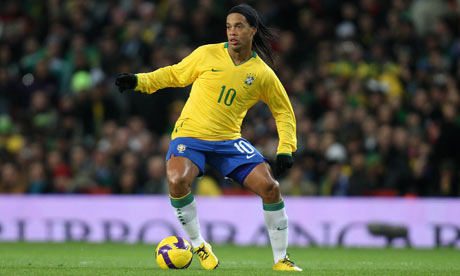 Post Goal Celebrations: Little did I realize in my zest for the game that I no longer had to rest for that long. In fact, by the time of JEE, I was doing it nonstop, for full 90 minutes. My congestion cleared up and I felt much better. I was down to 58 Kg in February 2007. This also helped me gain confidence and perform better in studies.
The Solo Red Card: I hardly knew about anything in fitness. Yes, I did some pushups and crunches like every enthusiastic newbie but it was hardly anything substantial. So what I developed was a skinny but weak physique. I built great endurance but no muscles. Although, like a controversial penalty can fire up a team's enthusiasm for the remaining game, this phase made me realize it's just not healthy to do endurance activities while ignoring other aspects of fitness which helped me a great deal in the longer run.
Game Aftermath: Looking back, it was hardly the best fitness program one could follow, but we all have to start somewhere and that's the point of the post. If you're currently not doing anything, start somewhere and do it for the fun of it. My fascination with football at least pushed me to the world of fitness and it opened doors for a fat kid to the world of swimming, powerlifting and running on a regular basis. It can work for you too. As Nike advertizes: "Just Do it".
Start Somewhere,
Parn